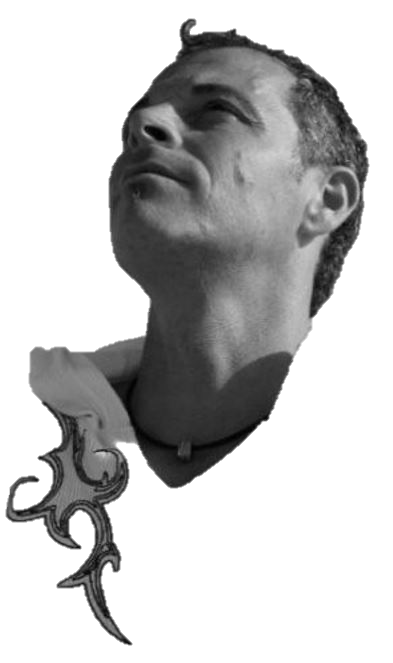 Unique Swiss Wooden Art
Deutsch Vorwort
Mit unseren Sinnen nehmen wir verschiedene Dinge war.
Mit den Augen und Händen als Sinnesorgane erkennen wir   Bilder, Farben, Formen und Bewegungen. Solange meine Bilder und Skulpturen die Sinne der Betrachter zum Nachdenken und Träumen anregen wird in meinem Kopf immer wieder Neues entstehen, dass ich mit meinen Händen umsetzen werde.
"Meine Skulpturen schweigen so lange, bis jemand davor steht, diese ansieht und in seiner Fantasie zum Leben erweckt"
English foreword
Our senses allow us to perceive various things.
With our eyes and hands as organs of perception, we recognise images, colours, shapes and movements. As long as my pictures and sculptures stimulate the senses of the viewers to reflect and dream, new ideas will again and again create themselves in my head, which I will translate with my hands.
"My sculptures are silent until someone stands in front of them, looks at them and their imagination makes them come alive".
Deutsch Vita
1966 geboren in Zunzgen Basel-Land "Schweiz"
Eine Skulptur zu erarbeiten ist für mich eine Herzensangelegenheit und eine seelische Erfüllung. Musik die ich gehört habe, Träume die mich bewegt haben, Bilder die ich gesehen habe, Texte die gesprochen wurden, Gedanken jeglicher Art lassen meine Skulpturen wachsen. Sie beinhalten Gefühle die mich in der jeweiligen Situation bewegt haben.
Beim Erarbeiten der Skulpturen fühle ich den Fluss zwischen meinen Emotionen und meinen Händen. Oft arbeiten meine Hände entgegen meiner Gedanken und wenn die Skulptur nach vielen Stunden, Tagen oder Wochen endgültig fertig ist und das Innere meiner Gedanken nach aussen trägt, dann bin ich glücklich und zufrieden.
In den letzten Jahren habe ich einige Ausstellungen durchführen dürfen und freute mich sehr über das rege Interesse an meinen einzigartigen Skulpturen.
Im November 2017 habe ich an der Artstage in Deutschland am Kunstsalon für meine Arbeiten den Artstages Award für Bildhauerei gewonnen.
Mittlerweile stehen meine Skulpturen an verschiedenen Orten in Europa.
English Vita
1966 born in Zunzgen Basel-Land "Switzerland"
Creating a sculpture is a labour of love for me and an emotional fulfilment. Music which I have heard, dreams which have moved me, pictures I have seen, texts which were spoken, thoughts of any kind allow my sculptures to grow. They contain feelings which have moved me in the respective situation.
In creating the sculptures, I sense the flow between my emotions and my hands. My hands often work against my thoughts and when the sculpture is finally completed after many hours, days or weeks and transports the inside of my thoughts outwards, then I am happy and satisfied.
In recent years, I was able to carry out some exhibitions and was very delighted to see the animated responses to my one of a kind sculptures.
In November 2017, I won the Artstage Award for Sculpture at the Artstage in Germany in the Kunstsalon for my work.
Now my sculptures are displayed in various places in Europe.
Kunst-Ausstellungen / Art-Exhibitions:
2010 Galerie Haus am Bach, CH- Sissach
2011 Galerie Haus am Bach, CH-Sissach
2012 Kunstmarkt, CH-Basel
2013 Kunst in den Brauereihallen CH-Liestal
2013 Nischenmarkt für Kunst, CH-Sissach
2014 Nischenmarkt für Kunst, CH-Sissach
2015 Rhy Art Fair, CH-Basel "Art Basel "
2015 Nischenmarkt für Kunst, CH-Sissach
2016 Art Radisson blue, CH-Basel
2016 Galerie Dorf-Träff, CH-Opfikon
2016 Kunstausstellung, Galerie Forum CH-Glattbrugg
2016 Nischenmarkt für Kunst, CH-Sissach
2017 Kunst Bauwand im Glattpark, CH-Zürich
2017 Kunstsalon Artstages, D-Freiburg
2018 Kunstsalon Artstages, D-Freiburg
2018 Dorffest CH-Lausen
2018 Ausstellung Color Group CH-Möhlin
2018 Ausstellung Tertianum CH-Zollikerberg
2018 12 Jahre Sinneswandel D-Endingen
2019 Kunstsalon Kurhaus, D-Bad Bellingen
2019 Kulturschopf, CH-Zeiningen
2019 Galerie Dorf-Träff, CH-Opfikon
2019 ArtESB Baselland, CH- Liestal
2019 Alte Metzg, CH- Sissach
2020 GLADYS Art, CH Bad Ragaz
2020 Kunstsalon Kurhaus, D-Bad Bellingen
2020 Art-thur, CH-Frauenfeld